The president faces impeachment in a move that could bring recession-hit country to a standstill
Just under a year ago, Luiz Lima voted in elections to give Brazil's incumbent president
Dilma Rousseff
a second four-year term in power. Now, he believes the former Marxist guerrilla should be impeached.
Mr Lima supported Ms Rousseff and her Workers' party, the PT, because of their emphasis on social programmes. But since her re-election,
Latin America's largest economy
has plunged into recession, welfare schemes are under threat from a fiscal squeeze and the PT and its ruling coalition are embroiled in a corruption scandal at state-owned oil company
Petrobras
regarded as the
biggest in Brazil's history
.
For Mr Lima, who has just left a job in Brazil's stalled civil construction sector, the only way to restore confidence is a change at the nation's helm. "We have to do something in this regard and it has to be now," says the graduate from Brazil's elite University of São Paulo.
With opinion polls claiming that two-thirds of Brazilians, like Mr Lima, support the
opening of an impeachment process
against Ms Rousseff, one of the world's largest yet youngest democracies is facing a critical test.
Brazil was once among the fastest growing large countries — booming at a China-like 7.5 per cent in 2010. This year its economy is predicted to
shrink 2.8 per cent
. In 2016 it is expected to suffer a further 1 per cent contraction, according to a central bank survey of market analysts.
The country's woes are upsetting markets, not only in Brazil but also in
other emerging economies
. Its currency, the real, crashed to an all-time intraday low against the dollar of R$4.2479 last week on concerns over Ms Rousseff's fiscal management and political uncertainty.
"Global emerging market foreign exchange moves show that there has been significant contagion from Brazil," said Société Générale in a note.
The question for Brazilian politicians is whether it would damage the country to remove an elected president for merely being unpopular, even incompetent, without her having been found to have committed a crime. Most analysts believe that to unseat Ms Rousseff via impeachment her opponents will need to prove that she manipulated the national budget to hide a growing fiscal gap to keep her party in power, or was directly involved in corruption.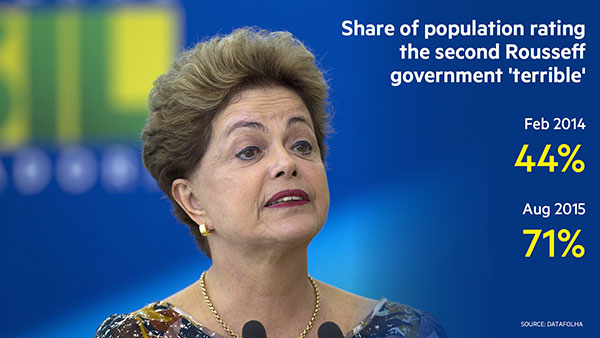 With much of congress tainted by the Petrobras scandal there is also a question of whether any replacement would have the legitimacy to deliver the tough medicine — such as tax rises to balance the overstretched budget — that Brazil's struggling economy needs.
"This is a very grave decision in a democratic system, it is an intervention in the will of the voter," says Joaquim Falcão, a professor at FGV Direito Rio, a law school, of the impeachment process. The risk is that without a strong grounding, an impeachment could jeopardise Brazil's reputation for building firm institutions. "We have to send a message to external investors that everything is being resolved in accordance with the law," says Mr Falcão.
Plotters gather
The modernist national congress building in Brasília is known for the two bowl-like structures on its roof — one upturned and the other upside down, backed by the twin towers of the senate.
Less well known is that underneath the building is a vast underground complex. This is where hundreds of functionaries scamper along narrow hallways between the offices of the congress' 513 lower house deputies and 81 senators representing 28 parties.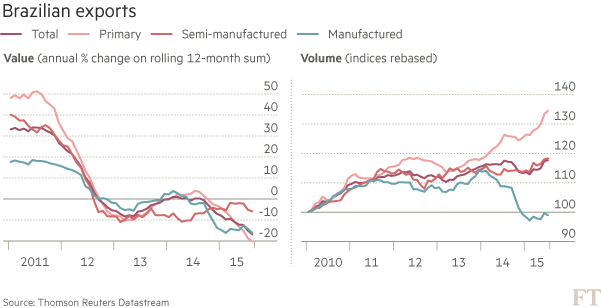 When the PT was strong, the majority of these parties were happy to partner with the government. Now with Ms Rousseff on the rack, they are deserting a sinking ship, claim opposition leaders.
In his offices, Carlos Sampaio, house leader of the main opposition Social Democracy party, the PSDB, is frantically doing the numbers to make impeachment possible. Earlier this month, he and other opposition parties backed a move by a found
ing member
of the PT-turned-dissident, Hélio Bicudo, to file a petition with congress seeking Ms Rousseff's impeachment.
The petition accuses her of fiddling the public accounts to produce politically acceptable budget balances. The TCU, the
government accounts watchdog
, has criticised these so-called accounting tricks. It is expected to vote on whether to reject the accounts as early as next month. Ms Rousseff denies any wrongdoing.
Mr Sampaio believes he has the 257 votes needed to get an impeachment process started. The next milestone would be a lower house vote requesting the senate to begin the formal "trial" of the president. Mr Sampaio and his allies would need a two-thirds majority, or 342 seats, to get this through.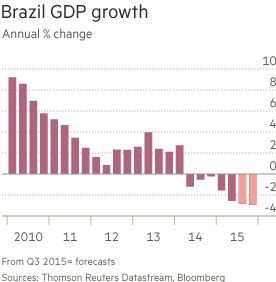 "The headlines in the newspapers and on television will be: 'The impeachment process starts against Dilma.' After that, no one will be able to stop it, between the pressure from the population and from politics, we are confident it will be feasible," says Mr Sampaio. The process could be done and dusted by the end of this year, he says, although this timetable looks ambitious.
A key debate in congress, however, will be how much an impeachment should be guided by legal factors and how much by politics. Mr Sampaio argues it is 90 per cent political. The fact the TCU has already identified irregularities in the public accounts is enough, he says, without any formal charges being levelled against the president.
Constitutional law experts agree. If congress wants to impeach a president, it can. The only president to face an impeachment since Brazil returned to democracy from military dictatorship in 1984, Fernando Collor, was accused of corruption but never convicted.
"The law is very open," says Oscar Vilhena Vieira, director of FGV Direito São Paulo. "If congress wants to use it politically, it will do so."
Rousseff's charge sheet
Many lawmakers believe the president has committed enough mistakes to warrant a leadership challenge. She blames external factors such as the end of the
commodities supercycle
for the economy's woes. But critics say her government slipped up by running price controls and a clumsy stimulus programme during her first term that left public finances in disarray. Since winning re-election last October, she has flip-flopped on an austerity programme, earning a downgrade of Brazil's credit rating from Standard & Poor's to junk.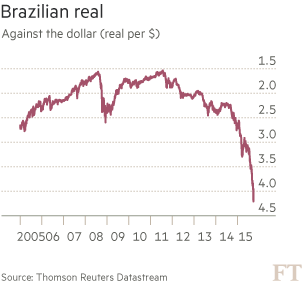 "Brazil will have three consecutive years of negative economic growth — we have not had that since the end of the 1920s," says Aécio Neves, PSDB president, in his senate chambers.
Politically, Ms Rousseff has erred too, her critics say. At the start of her second term, she alienated the PT's coalition ally, the PMDB, a loose grouping of regional politicians more inspired by pork than ideology, by not sharing more power. This led to open hostility from its members, especially house speaker,
PMDB powerbroker Eduardo Cunha
.
Equally damaging has been the loss of Ms Rousseff's "clean" image, which has been tainted by alleged corruption at Petrobras, with several coalition politicians accused of collaborating with former company directors and contractors to extract bribes and kickbacks. While she has not been accused of direct involvement, Ms Rousseff was the head of the company when much of the alleged corruption took place. This month, the PT's treasurer,
João Vaccari Neto
, was sentenced to 15 years in prison for involvement in the scandal, raising fresh questions over whether the party's campaign finances have been compromised
by the scandal
. The matter is being investigated.
"If this occurred, the tenure of the president and vice-president could be annulled," says Mr Neves, an outcome that would lead to new presidential elections. The PT denies any irregularities.
The problem for those who would impeach Ms Rousseff is how they would unite the country once the process was concluded.
Mr Cunha, who has broken with the government, says an impeachment process should not be treated as a "third round" of last year's election. It is designed to punish presidential misconduct not unpopularity, he insists. "If there exist the legal conditions, it will be done," he adds.
©Wilson Dias/Agência Brasil
Supporters of impeachment would want to avoid a long-drawn out battle that could paralyse policymaking and potentially backfire on them when the economy is so weak.
Mr Neves says in the event of an impeachment, his party would be willing to let the rival PMDB take the front seat and support it from congress. "In a PMDB government, I would defend the return of growth . . . without any promise of participating in the government," he says.
The enemy within
For her part, Ms Rousseff is fighting back. She is expected as early as Wednesday to announce a new cabinet that will share more power with the PMDB while reducing the influence of her own party. Her supporters hope this will blunt the impeachment bandwagon.
"There is no legal basis for impeachment," insists Edinho Silva, Ms Rousseff's communications minister. Adding that with a new coalition, the impeachment lobby "won't have the climate to prosper". The president's supporters point to an early victory last week when, allegedly thanks to her coalition-building efforts, congress backed away from voting for a series of measures that would have blown a hole in the budget.
Some analysts say the real threat to
Ms Rousseff's position
is much closer to home — from within her own party. Conspiracy theorists argue the party's best hope of restoring former president Luiz Inácio Lula da Silva — himself facing questions regarding the Petrobras scandal — to power in the 2018 elections would be for her to resign and let the opposition take the blame for the economic mess.
But PT lawmakers say that while there is disagreement within the party over her austerity measures, with leftist elements opposing cuts to social programmes, they will fight to keep her in power. "The party is united behind the idea of reconstructing its political bases in the house and senate to avoid impeachment," says Marco Maia, a PT lawmaker.
Whether this will be enough to avoid impeachment is anyone's guess. Many analysts give Ms Rousseff a more than 50 per cent chance of survival, while acknowledging that an impeachment process could quickly crystallise, and engulf her presidency.
Ms Rousseff's inconsistency on economic policy, particularly on efforts to restore public finances, could lead to the departure of her University of Chicago-trained finance minister, Joaquim Levy. Respected by the markets, his exit could spark another costly sell-off of the real, hurting Brazilian corporates with foreign debt, prompting higher inflation and angering ordinary citizens.
On the positive side, she could embark on more aggressive reforms to boost the country's finances and thus alleviate some of the market pressure for an impeachment. Whatever happens, however, most analysts judge the present uneasy truce as unsustainable.
"In the next few weeks, something is going to have to give," says João Augusto de Castro Neves of Eurasia Group.
He says impeachment remains the most costly option for the country in terms of political instability. But
with confidence in Ms Rousseff

at an all-time low,
impeachment is what some ordinary voters, such as Mr Lima, favour.
"Whoever comes to power won't be able to do miracles because we are in a crisis," says Mr Lima. "But to restore the image of the presidency, increase international investment, help companies recover and reduce inflation, I think it is important to remove the PT and Dilma."
Copyright The Financial Times Limited 2015. You may share using our article tools.

Please don't cut articles from FT.com and redistribute by email or post to the web.